Now that you know a little bit more about Search Engine Optimization (SEO) from our first article, A Beginner's Guide to SEO, and why it is such a powerful tool for your business and your brand, it is time to understand HOW to set your website to succeed for SEO.
MBE Group employs the "Ready, Aim, Fire" methodology to create a plan for implementing any project that starts with strategy and research and ends with tactical execution and analysis of results. Below you'll find the first two steps in this three-part process:
READY: Create a Strategy for Success
75 percent of people never scroll past the first page of search engine results, so creating a strategy before implementing an SEO campaign is an essential first step. Start by thinking through your website goals and what you wish to achieve by asking questions like:
1. What is the primary purpose of your website?
2. What actions do you want someone to take when on your website (click a link, download content, make a purchase, etc.)?
3. Do you want to increase brand awareness or recognition in your industry?
Once the essential questions are answered, get together with your marketing department or executive leadership in your company to set the foundation for strategic alignment within your organization. When everyone is familiar with the goals you are setting out to achieve, you can begin to discuss budget, timing and other logistics that make the next phases of your plan possible.
AIM: SEO Audit
Essential Steps to Your Audit
1. Utilize Research Tools
Moz, SEMRush, SERP, Google Keywords, Spyfu and WordStream are just some of the comprehensive tools you can use.
2. Research Keywords
Identify the organic keywords, volume and search ranking relevant to your industry/company/product/services.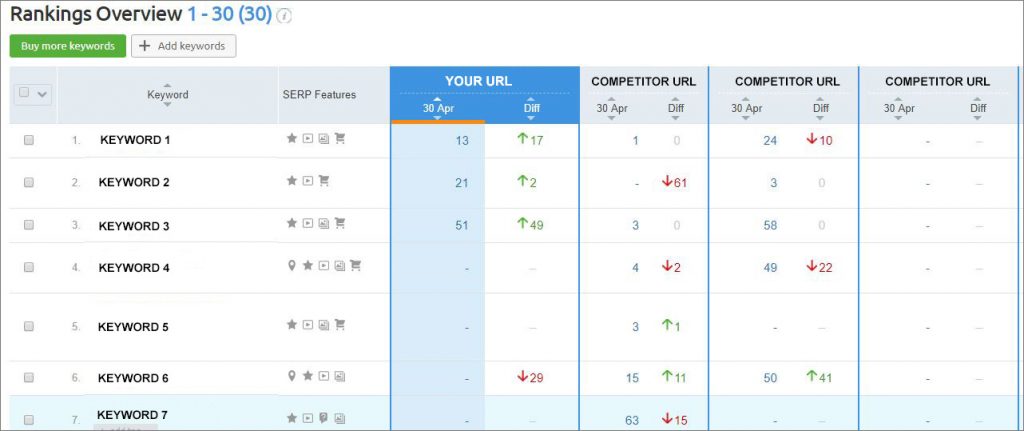 3. Develop a List of Keywords
Develop a list of keywords that are relevant to your industry/company/product/services and have good search volume.
– Research your own website's ranking for each of the keywords on your list.
– Research your competitor's website ranking for those keywords as well. Review their website and understand what is working or not working for them.
– Analyze broad and specific keywords – Make sure that the keywords you want to focus on are specific enough to your business that they will help customers find you online, and not so broad that they lead to competitors or unrelated items/websites.
EXAMPLE:
If you are a manufacturer of glass windshields for passenger vehicles, for instance, you would want to use keywords like "automotive glass manufacturer" or "automotive windshield" as opposed to "glass" or "glass manufacturer." These small changes can make a big difference regarding relevance.
4. Review Your Current Website Content and Analytics
– Are the keywords from your list found organically throughout your website content?
– How much traffic are you getting? This is important for setting benchmarks.
– Where is your traffic coming from?
– What are the specific pages visitors entered your website through?
– What pages do you want your visitors viewing, and if they aren't viewing those pages, why not?
5. Review Competitor's Digital Presence
Assess how much of your competitor's traffic is paid versus organic. Get an idea of the amount of backlink referrals happening on their website and from what outside sources the links are coming from. This is where the mentioned research tools will come in handy.
KEY TAKEAWAYS
– Your keywords should not necessarily be focused on how YOU talk about your products/services but how people search on search engines.
– Understand your industry and the top keywords associated with it.
– Figure out the areas where you can be competitive – What do you do that no one else does?
Now that you've thought out your SEO strategy (READY) and researched your most effective keywords (AIM), stay tuned for our next article in this series about implementing (FIRE) your SEO campaign for maximum impact!
If you need assistance implementing these SEO strategies, recommendations or competitive research to improve your search ranking, please contact our team.
Contact Us