This year, MBE Group received an Automotive Communications Award, presented by Women in Auto Care at the 2020 Virtual AAPEX (Automotive Aftermarket Product Expo) Experience.
This prestigious award was given to client ADVICS for "Best B2B Website" and designed and built by MBE Group.
The website development project started with a comprehensive discovery and audit of the previous ADVICS website and marketing materials to understand what was working well and what needed improvement. Based on this research, MBE Group developed a strategic UX and content plan to address three primary goals:
Help users find parts via the custom parts lookup tool
Increase brand awareness by conveying the brand story
Increase average time spent on the website and average pages viewed per session
By setting out these three goals, MBE Group was able to successfully implement the necessary changes to deliver impactful results for the client with a complete and custom design of the website.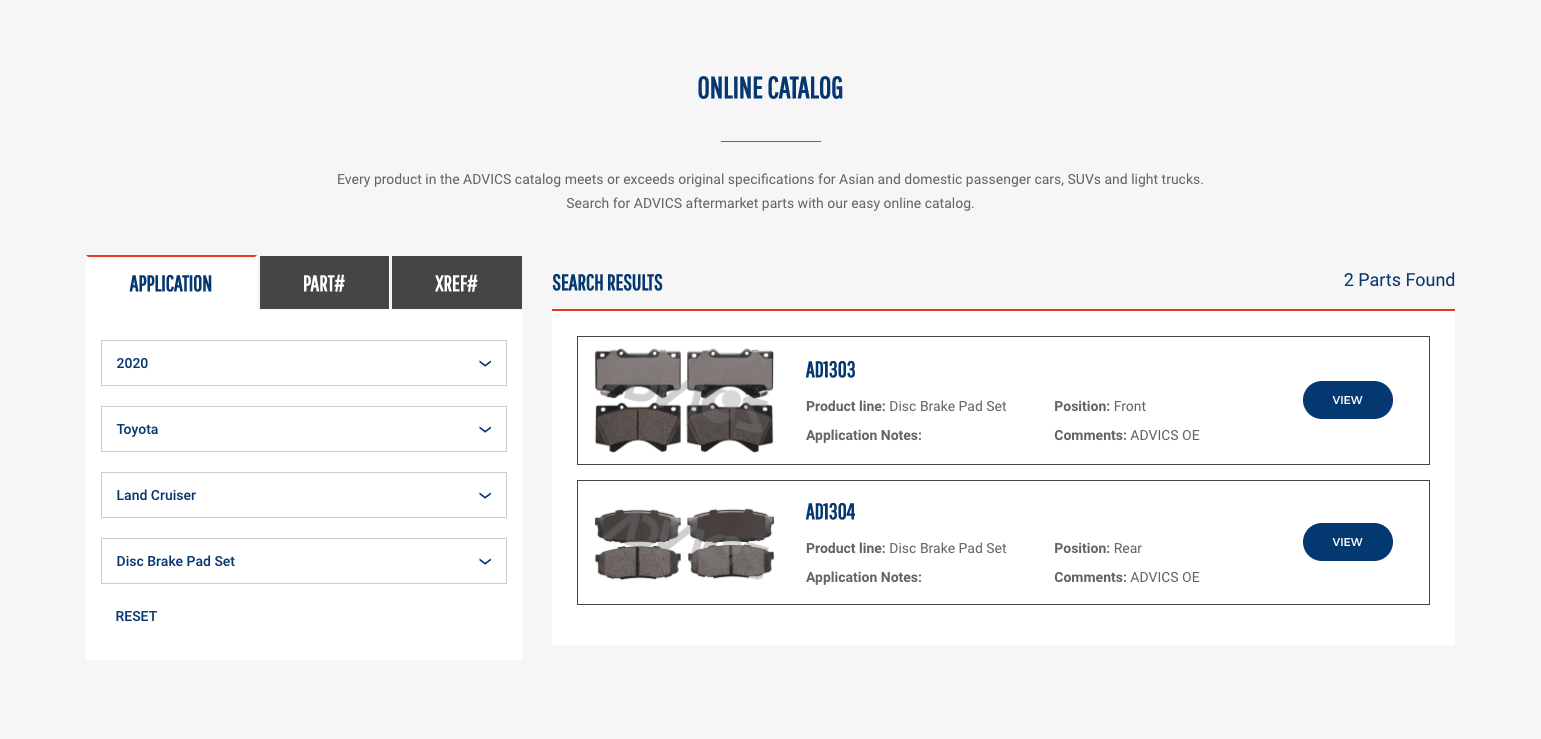 Custom Built Parts Lookup Tool
In order to help users locate the right parts, MBE Group designed a custom parts lookup tool, which features an intuitive year-make-model lookup, part number or cross reference (XREF#) search functions.
This parts lookup tool is now a highly performing page with greatly increased page visits and session times. It also provides data to the ADVICS team to see which part numbers and models receive the most amount of searches.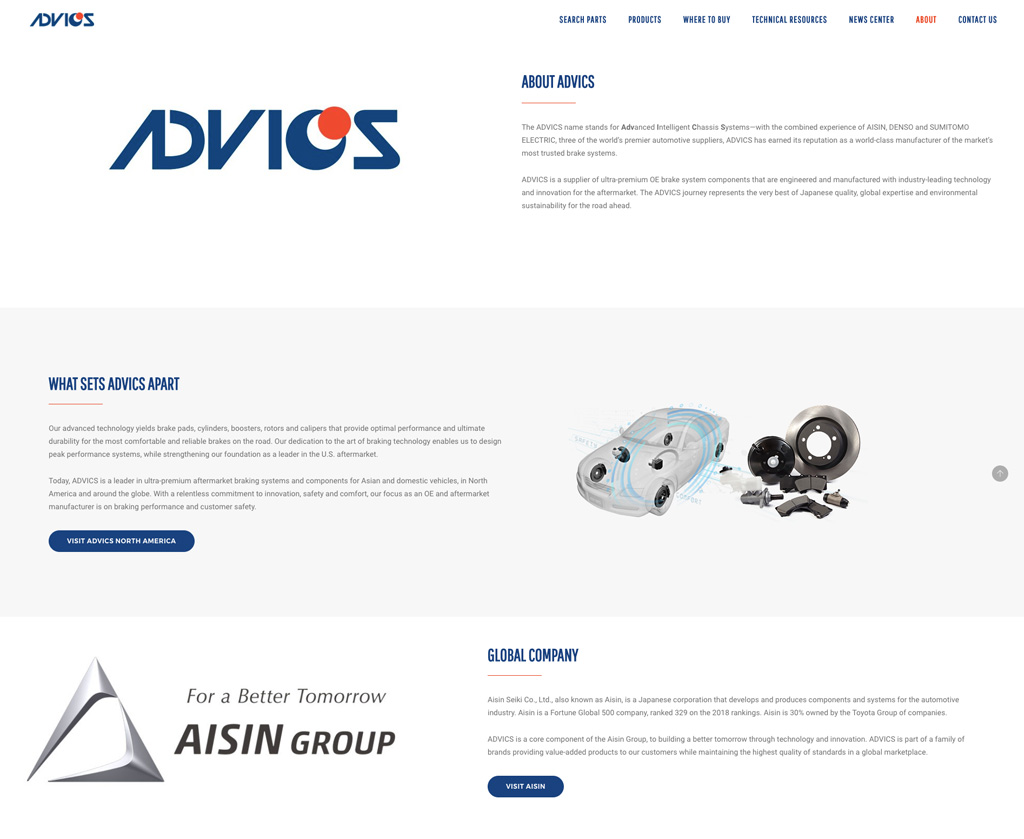 Brand Awareness
The custom design of the site focused on updating the previous look-and-feel with a modern, bold aesthetic. The entire website is optimized for both desktop and mobile viewing, providing an intuitive user experience from any device.
A light and bright color palette is used throughout the website, echoing the ADVICS branding while tying to visuals from the current print and digital ad campaigns.
This cohesion across multiple channels creates strong brand recognition and awareness for viewers.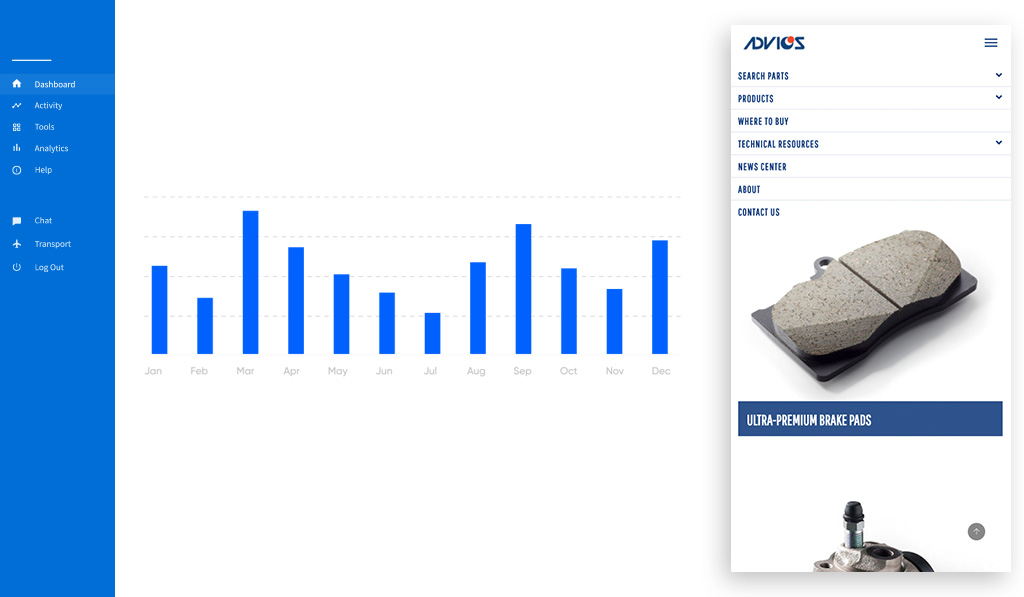 Analytics
The new website is delivering a high-level user experience and applicable technical content that the audience was requesting. Based on the most recent analytical data, users are much more engaged with the content and are spending more time on the site. Page views increased significantly, as well as pages viewed per session.
The website sees impressive statistics, including the following:
191% increase in pages per session
96% decrease in bounce rate
67% increase in average time spent per session
Truly unique to this website and a direct response to the client's goal is the 3% bounce rate. This is a remarkable figure where on most "healthy" sites, a bounce rate is expected between 30%-50%. Any bounce rate below 30% is excellent. MBE Group was able to create a successful user experience as users are able to navigate the site easily and find relevant content.
Click below to view the award-winning ADVICS Aftermarket website.
VIEW WEBSITE