In early 2018, Auria (www.auriasolutions.com), global automotive supplier of acoustic, flooring, aerodynamic and other fiber-based products developed a new flooring solution for the off-road and ride-sharing vehicle market. When initial prototypes were developed, the decision was made to push the new flooring system – named Armorlite – to the Jeep off-road aftermarket.
To bring Armorlite to market, Auria used market data to select the 4-door Jeep Wrangler JK as the initial platform for launch and quickly established a partnership with Jeep Jamboree USA to establish market knowledge and credibility within the off-road community. With a market of 2.1 million vehicles on the road, the Jeep Wrangler JK offered the best opportunity for rapid consumer adoption.
MBE Group worked with the Armorlite team to establish relationships within the Jeep Jamboree team, negotiated a sponsorship/event package and developed a list of trail guides for a beta-test program. The beta program consisted of putting prototype Armorlite floors in several vehicles around the country and gathering feedback through surveys and regular outreach.
The development program for the JK-model floors ended in late 2019, with the official product launch taking place in February 2020.
Initial goals for the program were:
Establish relationships within the off-road community
Gain understanding of the market and consumer demands through

Beta tester program
Market research
Competitive research
Event participation and research

Develop all branding materials

Name, logo, tagline, ad campaign, sales material, website, merchandise, video, photo, etc.

Establish marketing strategy

Advertising, PR, social media, events, etc.

Bring the product to market
Because Armorlite was starting from scratch, MBE Group worked in conjunction with the Armorlite team to bring the product to market through a targeted, highly strategic marketing program. It required the development of all assets necessary for a direct-to-consumer program.
Branding
The branding program consisted of finalizing the development of the name, logo concept, development and selection, color development, images and taglines.
Naming – The Armorlite name came from a desire to have it tie into another Auria-made product called Maslite. Naming was vetted through the US Patent & Trademark office (USPTO) and within the off-road/automotive industry.
Logo development – The logo loosely ties to the Auria "A" symbol, creating a link to the parent company, but using a different color scheme. The bull was selected to signify toughness.
Colors – The color scheme ties slightly to the Auria parent logo (orange/grey) but is capable of standing on its own.
Taglines – "The Toughest Floor on the Trail" – This tagline was developed solely to separate Armorlite from every other flooring product available in the Jeep aftermarket. Armorlite outperforms each of them in several ways, and this bold, aggressive statement pushes this point outward.
Images – A mix of product and lifestyle images are used in the branding campaign. The lifestyle images serve as the primary element to create an emotional tie directly to the off-road consumer. They focus on the vehicles and the types of environments (dirt, mud, snow, rain, etc.) where Armorlite excels. A second series of images and videos show the product itself and its key product attributes.
Video – In addition to the images, the MBE Group team created a series of videos for use in trade show booths, website, social media and advertising. We developed the script and shot list and selected the vendors and directed a two-day video shoot in North Carolina, where we shot a complete installation video and a trail/outdoor video showing the Jeep in action, along with key attributes, including (drainage, durability, washability, grip, etc.). The on-trail video was shot with drones, tripods and ride-along cameras. MBE Group personnel even served as the stunt drivers of the Jeep and as the "models" for the action in the video.
Graphics: MBE Group designed a series of graphics for use in sales and marketing of the Armorlite product. These included:

Boxes – All designs for the packaging of Armorlite
Brochures – Brochures and sell sheets for Jeep Jamboree events, AAPEX, one-off events
Stickers & Magnets for giveaways at trade shows, in boxes and at Jeep Jamboree events
Installation guides – Text, images and general design of the installation guides shipped within Armorlite packaging.
Swag – MBE Group designed and produced hats, jackets, t-shirts, polo shirts and sweatshirts for the on-trail and internal Armorlite teams to wear, as well as to give away to brand ambassadors and beta-testers

Other – The Armorlite team purchased a Jeep Wrangler JK and customized it for the trail, complete with a branded wrap. This vehicle served as a key piece in our branding and social media activities.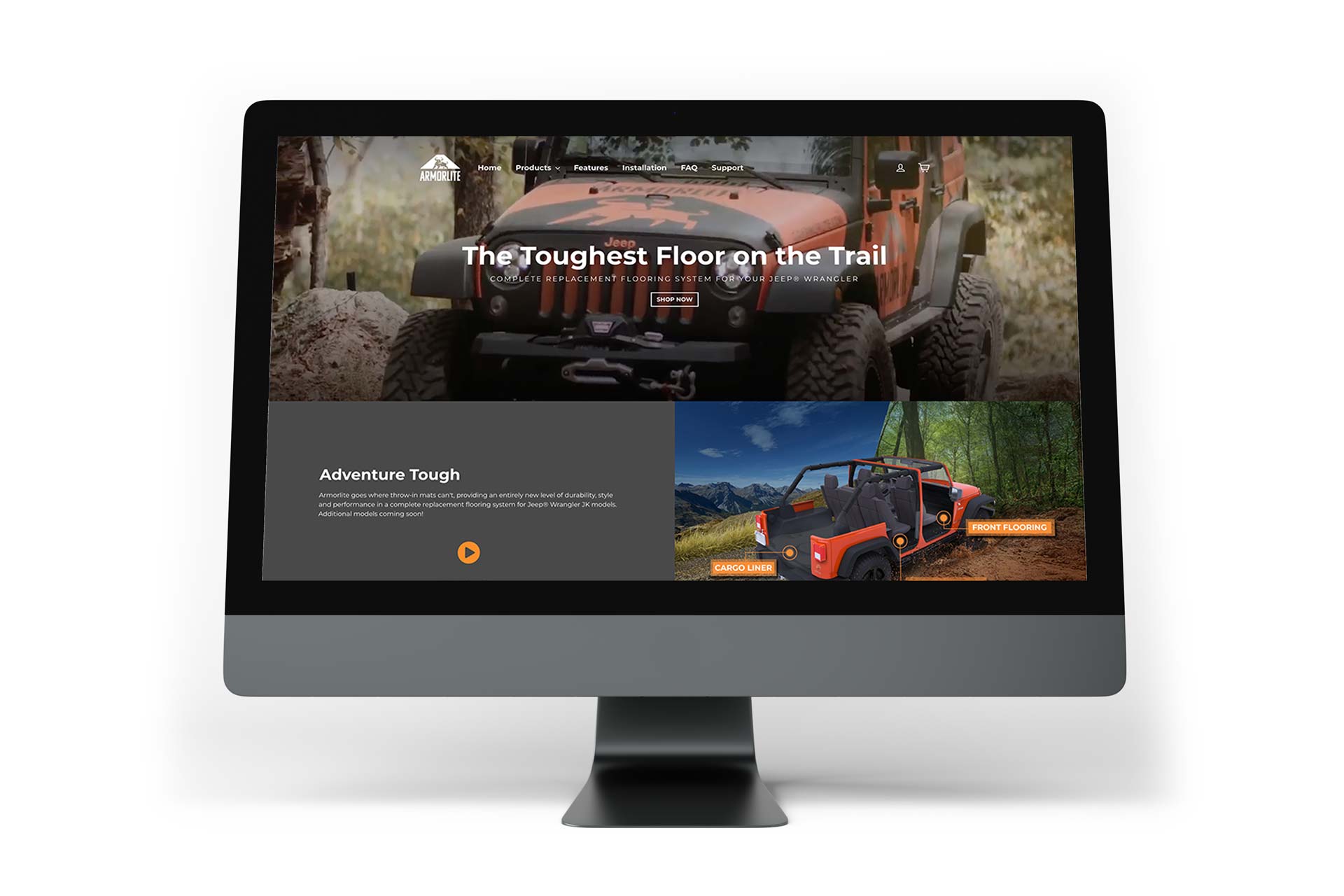 Website
Armorlite is a direct-to-consumer product. As a result, the website serves as the primary point-of-contact with all customers.
Strategy:
Pre-launch – Prior to launch, the www.goarmorlite.com page was set up as a stand-alone landing page touting the product's arrival through lifestyle images with a "coming soon" text.
At launch – MBE Group developed and launched a Shopify site to handle e-commerce. The site provides clear information about the product attributes, while pushing the end-user to the purchase page. All content is optimized for the end-user experience.
Current – The site is monitored for sales daily, customer service needs, product updates, analytics and continuous optimization of UX for mobile
4.27
Pages viewed per session – above industry average
28.3
% Returning visitor excellent results, given the highly specific audience in the Jeep aftermarket
47%
Of sales are from direct visitors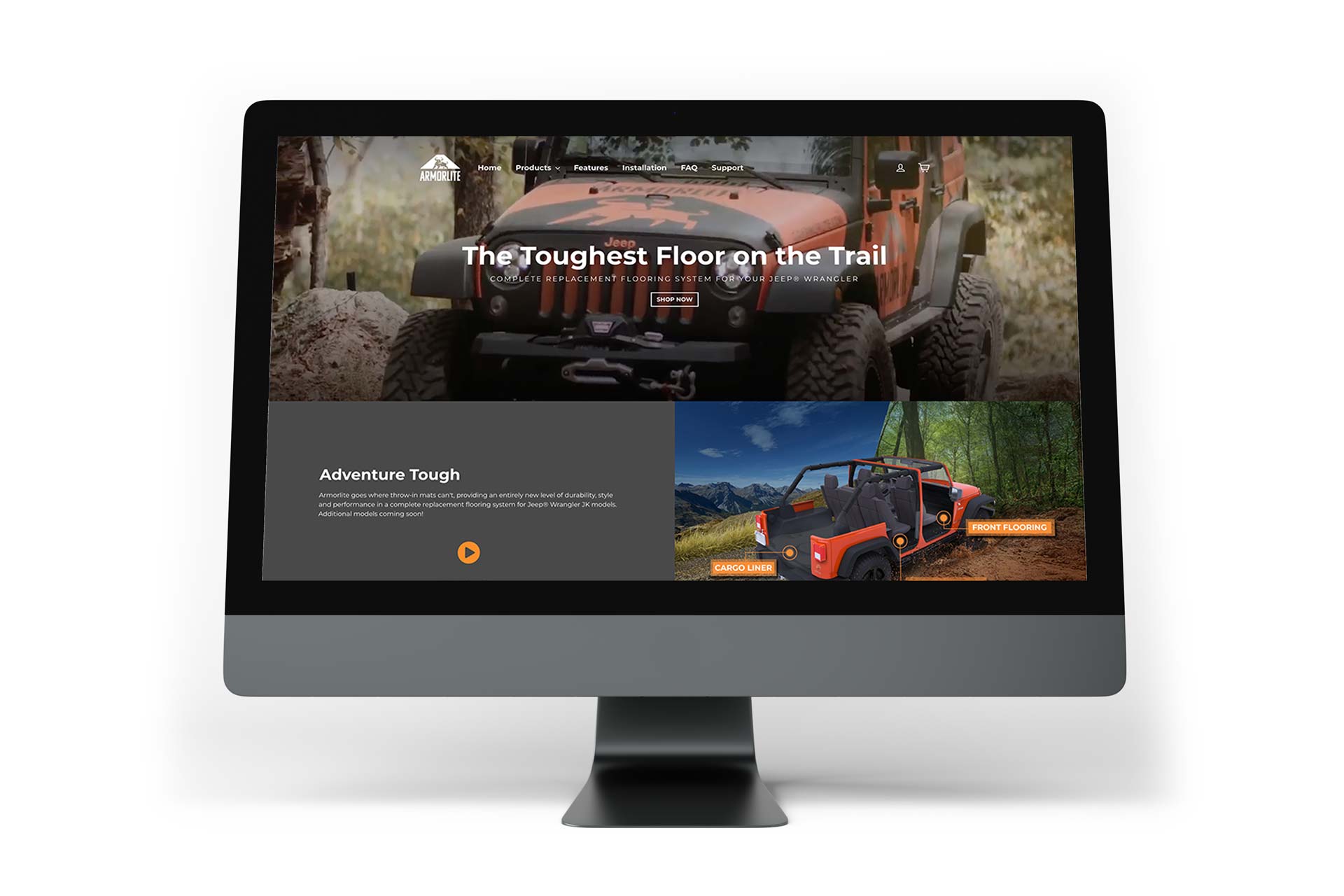 Social Media
Through the initial audience and market research, it was clear that social media would be the primary method for consumer outreach. The overall marketing strategy put social media at the forefront through a proactive posting campaign and a targeted social media advertising program.
Pre-launch – Audience development, asset and content creation and platform strategy. Facebook, Instagram and YouTube were selected as the platforms, while the MBE Group team began outreach to a range of social media influencers. During August 2019, in conjunction with a Jeep Jamboree event in Wyoming, we launched the social media platforms, using photos from the event of the Armorlite Jeep and the Armorlite floor, which was on-trail for the first time.
Pre-sale – Prior to the official production launch, in February 2020, social media channels were used for a "pre-order" program. The 30-day program was designed to establish awareness of the product and gain initial traction for production.
Launch – First units began shipping in March 2020, which was highlighted on the social media channels through discounted product sales and promotions.
Current – Social media has proven to be the primary driver for traffic to the Armorlite website and is used for customer service and interaction, competitive product comparisons, lifestyle imagery, user-generated content, promotional programs, peer-to-peer support and new product announcements. The posting program consists of weekly posting, engagement, a robust social advertising program and influencer programs. MBE Group works in conjunction with partners, such as Jeep Jamboree to push additional content to a wider audience.
14045
Facebook Followers in less than one year
1487
Instagram followers in less than a year
94538
Content clicks since conception
63
% of website traffic comes directly from social
20
% of Sales are coming from social feeds
3201533
Impressions on Facebook and Instagram
1179437
Reach on Facebook and Instagram
103340
Engagement on Facebook and Instagram
Advertising
Armorlite advertising program including:
Ad concepts, copy and design
Media planning, placement and analytics
Promotions and raffles
The overall campaign strategy consisted of:
Media distribution 75% digital 25% print
Print: yearlong coverage in 4 major publications (FourWheeler, Trails, Tread, Crawl) with a mix of full-page and half-page ads.
Social utilizing 42% of digital media buy – display 28% and search 29%
Targeting Jeep audience, primarily within the United States, with some minor crossover into Canada.
A lifestyle-focused design to create an emotional tie to the product. The product is featured on the ads but is secondary and is highlighted through the text.
61
% of all web visits are coming from advertising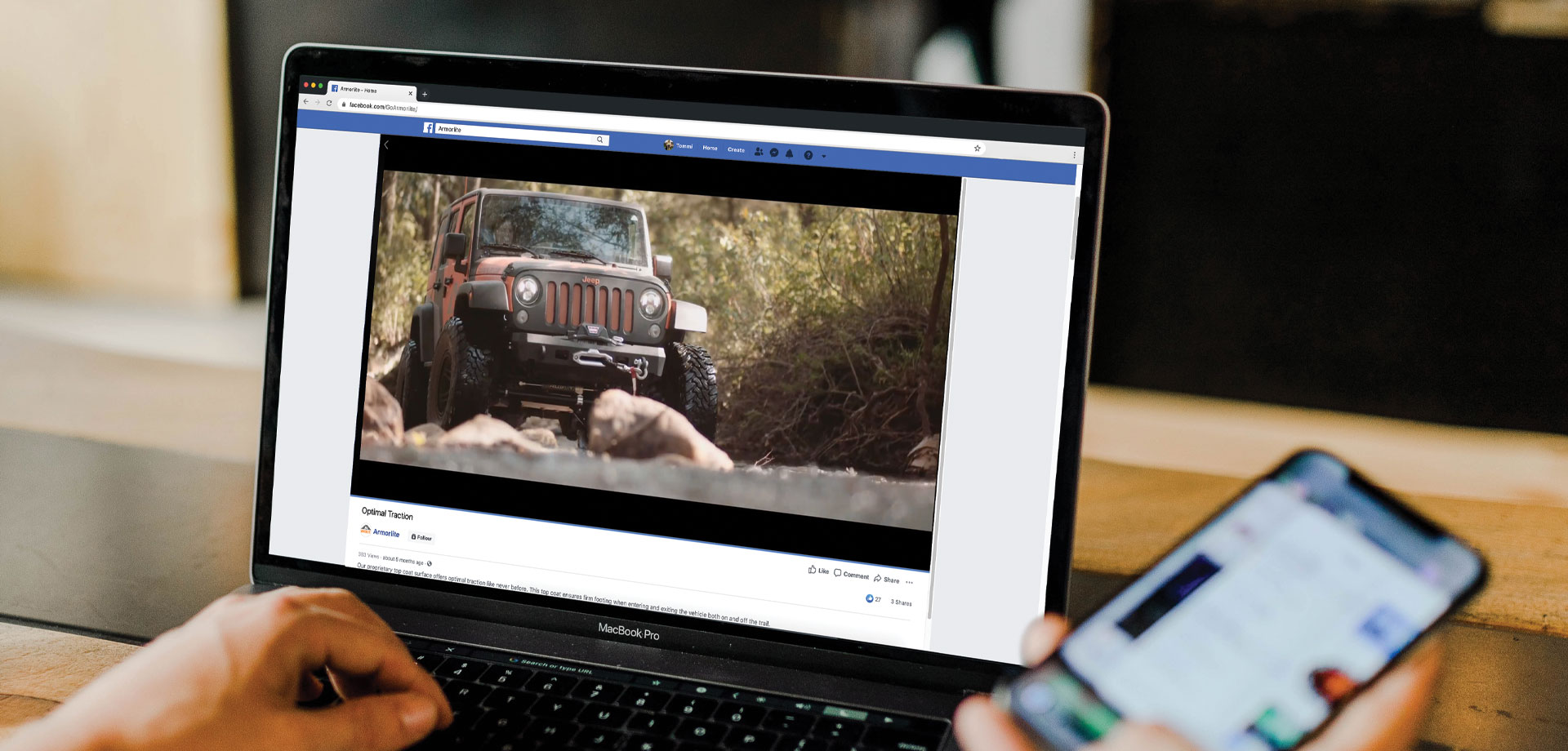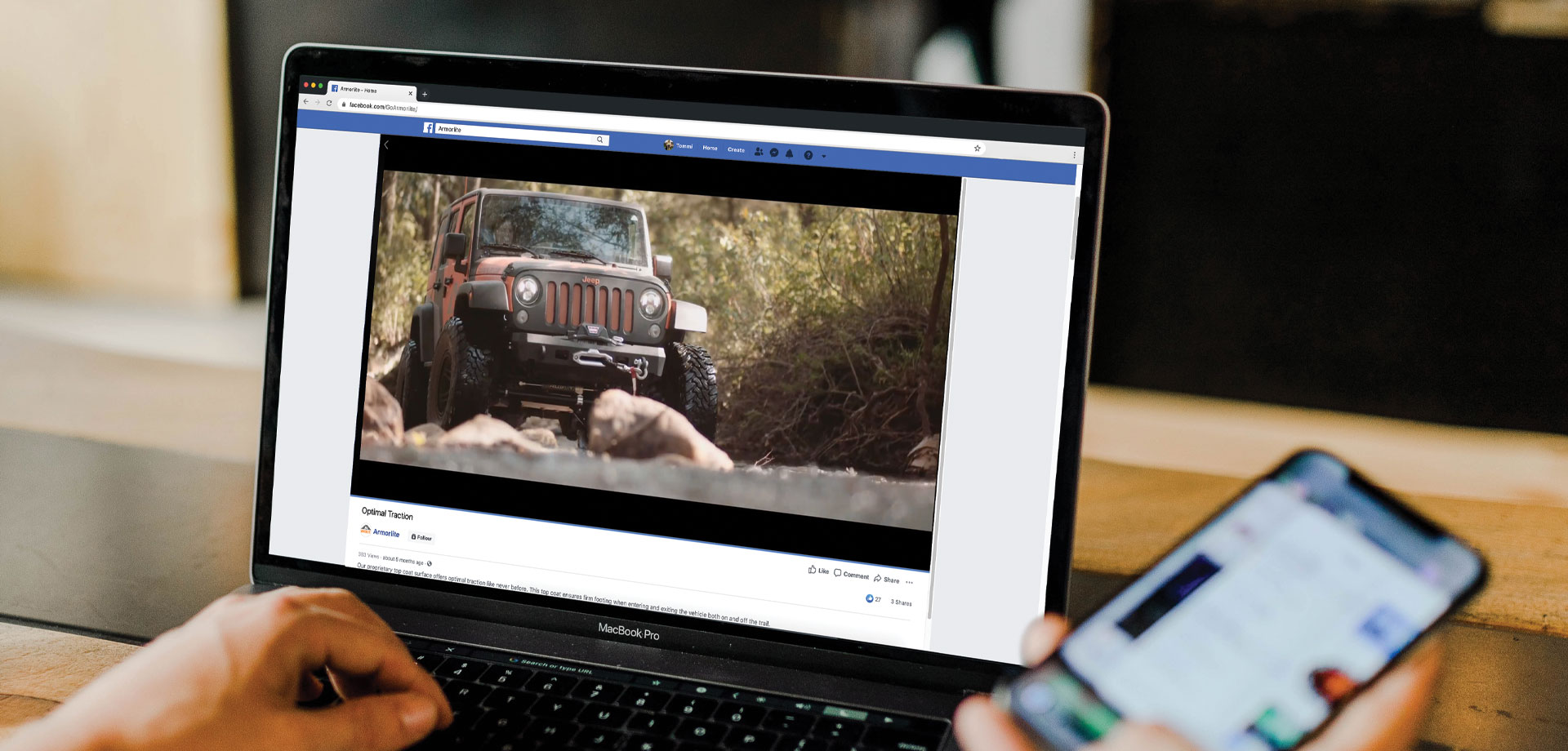 Public Relations
Given the limited number of "traditional" media outlets in this market, the public relations campaign was highly targeted to consumer-facing aftermarket and off-road publications. It is/was supported with a robust social media program and a social influencer program.
Strategy
General launch – An industry wide news release was developed and distributed on January 28, 2020 announcing the availability of the product for pre-sale
Product testing and reviews – In conjunction with the launch release, we began direct outreach to the key publications in the off-road market. We would provide a floor to editors who had a Jeep Wrangler JK and ask for an installation story/video and product review
Social influencer programs – To support this effort, we targeted several micro and macro off-road social influencers. As the product began reaching the market, we began seeing individuals post their own videos and reviews of Armorlite. In the vast majority of these situations, we very quickly reached out to these individuals and provided them Armorlite swag, direct customer service and additional opportunities for participation in the program.
775
Likes from Top 3 influencer posts
34
Completed post from influencers