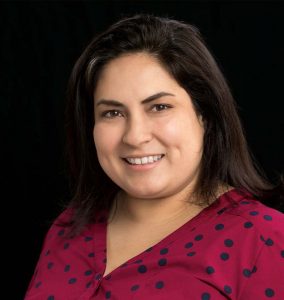 Gloria Moreno
DIGITAL TECHNOLOGY MANAGER
With proven experience in social media, website design, email marketing, SEO, content development, analytics and digital media, Gloria adds depth to the digital services offered at MBE Group. Using her talent for initiating and strategizing, and an eager "grab the bull by the horns" attitude to move projects through the pipeline, Gloria guides the digital team to optimize content and tracking to target specific audiences. With her dedication to learning and staying on top of constantly changing technology, Gloria is focused on moving beyond reporting data and metrics to providing valuable analysis through qualitative insights. Her significant role in MBE Group's analytics and performance analysis services helps clients understand the full range of their paid, owned, and earned media to grow their audience and more effectively measure ROI.
After earning a bachelor's degree in advertising from San Jose State University, she went on to earn a master's degree in advertising from the Academy of Art, San Francisco.
Gloria is fluent in Spanish and finds herself chasing her active toddler or snuggling with her lazy bulldog named Winston when she's not in the office.