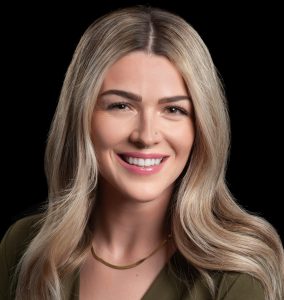 Kaleigh Jerzykowski
ACCOUNT EXECUTIVE
Growing up in the Metro Detroit area with car designers and technical draftsmen in the family, Kaleigh's appreciation for the arts and love of the automotive industry started at an early age. She strikes the perfect balance between a passion for writing and creative thinking in her role at MBE Group, where she leads accounts across the automotive, technology, mobility and consumer goods sectors.
Kaleigh's ability to listen to a client's needs and bring their vision to life make her an invaluable part of any project team. With strong skills in writing, project management, content creation and social media program strategy, she is a confident, versatile and results-driven leader for her clients.
Kaleigh has a bachelor's degree in Journalism with a concentration in English Literature from Oakland University, where she wrote for the school newspaper, The Oakland Post, for three years. Prior to joining MBE Group, Kaleigh worked in the non-profit space as an event and social media coordinator for the Clarkston Area Chamber of Commerce, helping small business owners connect with their community.
Outside of the office, Kaleigh is a fitness fanatic and certified yoga teacher who loves to box, cycle, weight train and anything in between! She has a passion for cooking and traveling the world, especially to places known for great food.